European Regions of Gastronomy building resilience and creating economic growth

Gastronomy, local and regional food heritage is a common European cultural heritage, and as such also a major economic asset. Regional agro-food value chains and the cooperation they generate between various sectors including agriculture, tourism, hospitality, education etc. can have a serious positive impact on local development. One way of materialising such cooperation is the growing trend of food related tourism – nowadays almost half of travellers wish to have culinary experiences during their travels. Yet European regions of gastronomy are facing serious difficulties like losing their gastronomic uniqueness due to globalisation threatening with standardised, mass produced food or underestimation of gastronomy as cultural heritage that needs to be protected.
The 9 partners of the EUREGA project have realised that the specificity of the regional gastronomy and food sector requires appropriate public support to be translated into local and regional public policies. Such (agro)food-policies or food and gastronomy related development plans are either ineffective or nonexistent.
EUREGA's main objective is to have food, food habits and gastronomy included and recognised in EU, regional and national strategies and policies both as a cultural asset and strong element in regional cultural identity and as a necessary tool to boost sustainable products and services.
This should lead to creating stronger and more resilient regions by protecting and stimulating gastronomy as part of their cultural heritage and also by identifying new opportunities for economic development. As a result of international partners working together for four years the seven Action Plans, each region is to produce as main outcome will introduce significant improvement to the targeted policy instruments (Operational Programmes or Regional Development Strategies) leading to economic revival of the food and gastronomy sector as cultural heritage in the regions involved.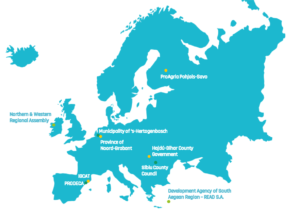 Lead Partner:
Municipality of ´s-Hertogenbosch
Project Partners:
Province of Noord-Brabant
ProAgria Pohjois-Savo
PRODECA Catalan Export Agency
Northern & Western Regional Assembly
Development Agency of South Aegean Region – READ S.A.
Sibiu County Council
Hajdú-Bihar County Government
EUREGA project is financially supported by the European Union in the framework of Interreg Europe programme, European Regional Development Fund.
For more information about EUREGA project please visit www.interregeurope.eu/eurega