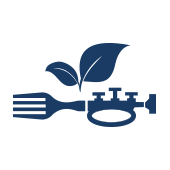 Focus Areas
Feeding the planet
It is estimated that by 2050 the world's population will have risen to 9 billion people (currently we are just above 7 billion people). The European Region of Gastronomy award aims to stimulate debate about how we produce sufficient food for everyone. Given that it is estimated that in 2014 more than 20,000 people die every day from hunger in the world, questions to do with global trade, food distribution, emergency aid and food production are urgent.
Sustainability
Sustainable local, regional and global food systems are important for all our futures. The European Region of Gastronomy award aims to stimulate debate about sustainable tourism, food and gastronomy practices in order to support the development of more environmentally, socially, culturally and economically sustainable food production and consumption.
Education
The European Parliament recently called for gastronomy and food to be integrated into the education curriculum – a move that the European Region of Gastronomy is designed to support. The European Region of Gastronomy is based on principles of collaboration, and sees cooperation between the educational sector, public and private bodies (the so-called 'triple helix' model) as a cornerstone of the programme. We will work closely with education and knowledge institutions in the host regions and elsewhere to disseminate information about the importance of regional gastronomy.
Innovation
Local food cultures are an important source of innovation. Traditions developed over centuries form the vital 'DNA' of food cultures and regional gastronomy, and local knowledge is therefore an important potential source of new ideas and innovative products and experiences. The key role of innovation in gastronomy was highlighted at the recent Expert Meeting organised by IGCAT on Innovation and Tradition in Regional Gastronomy organised by candidate European Region of Gastronomy 2016, Minho Region, Portugal.
Digital agenda
The Digital Agenda for Europe (DAE) aims to reboot Europe's economy and help Europe's citizens and businesses to get the most out of digital technologies. It is the first of seven flagships initiatives under Europe 2020, the EU's strategy to deliver smart sustainable and inclusive growth. The digital economy is growing much faster than other sectors, but it requires new ways of working. This also applies to the food sector, which needs to add value to food products through the application of creativity, also by using digital technology. Regions joining the European Region of Gastronomy network agree share good practice and support the digital agenda.
Linking urban and rural
Recent years have seen a growing divide between Europe's rural and urban areas, particularly in the area of food. Young people are often no longer aware where the food they eat comes from. The European Region of Gastronomy provides an opportunity for regions to re-connect their rural and urban environments, bringing the countryside to the city, and the city to the countryside. The European Region of Gastronomy will also stimulate debate between urban and rural dwellers about the future of food and gastronomy.
Global competitiveness
The European Region of Gastronomy is designed to underline the distinctiveness of Europe's food cultures and practices, enabling food products and experiences to compete effectively with those from other areas of the world. We see regional foods as being one of the major strengths that Europe can use to profile itself globally, which is why we are collaborating with the Taste of Europe programme.
Health
Food is vital for health, and gastronomy is literally the art of eating well. By showcasing regional and local foods that are wholesome and healthy, the European Region of Gastronomy hopes to contribute to raising awareness of health issues and to promote healthy eating.
Diversity
Regional gastronomy provides a wealth of diversity, not just in terms of a vast range of different foods, but also in the many ways of eating, presenting and serving foods around Europe. The conservation of local food cultures helps to promote the diversity of food, culture and creativity.
Supporting SMEs
According to DG Enterprise and Industry, more than 20 million SMEs in the EU represent 99% of businesses, and are a key driver for economic growth, innovation, employment and social integration. Small and Medium Enterprises (SMEs) are the backbone of regional food production and the mainstay of gastronomic experiences. The European Region of Gastronomy is designed to promote the work of SMEs and to help them achieve greater environmental, economic and cultural sustainability.
Globalisation
Globalisation poses both threats and opportunities for regional food systems. The globalisation of food production creates competition for local food producers and may threaten local products and traditional forms of food production and preparation. However, the growth of global food markets also provides opportunities for regional producers to expand their markets, providing they can create distinction to underline the added value of local products. Regions joining the European Region of Gastronomy network agree share good practice and support cross-marketing of local producers products and services.